For information on our popular Dawn Tours up Whiteface Mountain for Bicknell's Thrush and other high elevation species, see our Bicknell's Thrush Tours page for details.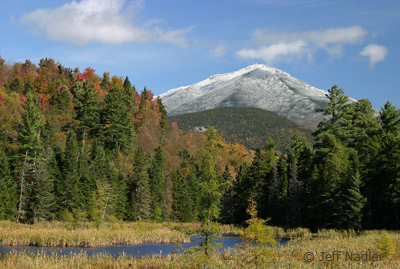 No matter what the season, New York's North Country offers extraordinary birding in a spectacular setting.
With Adirondack Avian Expeditions, you can choose a birding adventure all your own: hiking, canoeing, camping, snowshoeing, or car-birding. Our bird guides will create a tour just for you. Find out how you can make your birding tour with us the highlight of your trip!
Northern New York includes the beautiful St. Lawrence & Lake Champlain Valleys and the gorgeous 6 million-acre Adirondack Park – the largest park in the contiguous U.S.
Over 300 avian species can be found nesting, migrating, or wintering in the Adirondack Park's many habitats. These habitats include grasslands & shrublands in the valleys, lowland boreal bogs, marshes, and high elevation spruce-fir forests. More than 3,000 lakes and ponds, and 30,000 miles of rivers, brooks, and streams can be found in the Park!
Learn more about the birds and beauty of the magical North Country!
New York's North Country is an ideal birding destination at any time of the year. Beyond that, it's a vacation wonderland for the entire family. Outdoor recreation is available for every interest and every budget. There are museums, theaters, and shops. Lodging choices range from camping to grand historic lodges. Check out our travel information page for some great suggestions and links that will help you find everything you need to know.
Let the experts at Adirondack Avian Expeditions show you the way to the area's premier birding locations. Tell us how you like to bird, which birds you want to see, and any other specific objectives you have for your tour. We'll create an itinerary designed especially for you!
Adirondack Avian Expeditions offers workshops and presentations for birders of all ages and nature-oriented groups. Check out the details!