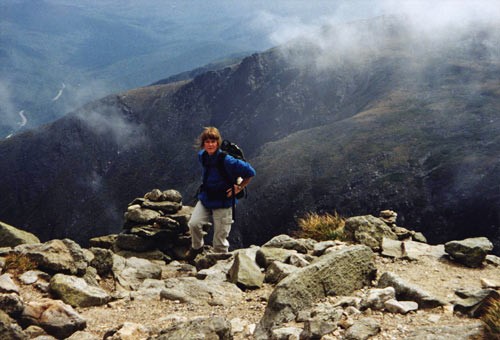 Joan Collins is a New York State licensed bird guide, bird walk leader, writer, and speaker on ornithology topics. She has led walks and made presentations for many organizations including Audubon, the Adirondack Mountain Club, and the New York State Ornithological Association. Joan also belongs to the ranks of the intrepid Adirondack 46ers (having climbed all 46 peaks in the Adirondacks over 4,000 feet).
Joan is a serious ear-birder and is fascinated by bird vocalizations/sounds. The nocturnal world of sound often keeps her from getting any sleep! Bird behavior, migration, and the history of North American Ornithology are among the many topics that interest Joan. She enjoys bushwhacking and camping in the Adirondack wilderness year-round, sometimes forgoing a tent to enjoy sleeping under a brilliant starlit sky — even in snow!
Ornithology Presentations & Workshops
Joan has made presentations on ornithology topics for many organizations and programs, including the Audubon Council of NYS, NYS Ornithological Association, SUNY College of Environmental Science and Forestry's Huntington Lecture Series, Adirondack Mountain Club Lecture Series, Cornell Lab of Ornithology, Whiteface Mountain's Atmospheric Sciences Research Center's Falconer Science/Natural History Lecture Series, local Audubon chapters, field biology classes, school districts for all ages, Adirondack Birding Festival, the Clarkson University Club, and historical associations. Joan presented a series of ornithology lectures for the SOAR organization at the State University of New York at Potsdam in 2007, 2009, and 2011, and in 2016, at SUNY Empire State College's Academy for Lifelong Learning. Joan is also interested in climate change issues and gave a presentation on the "Projected Effects of Climate Change on High Elevation Forests of Northern New York" at the Adirondack Research Consortium 2011 Annual Conference. She has also been a speaker on behalf of Audubon at public hearings on conservation issues.
Field Work
Joan's field work includes participation in the Mountain Birdwatch project on Blue Mountain. Two professors who accompanied her in 2008 wrote about the experience in their blogs:
"At precisely 3:55 A.M. we heard our first Bicknell's thrush sing a couple of hundred feet below the summit. We froze in our tracks and listened intently. My heart pounded with excitement and for a moment I stopped breathing….After two years of searching, my goal of hearing and seeing a Bicknell's thrush was fulfilled." Read more
— Steve Broyles, professor of biological sciences at the State University of New York College at Cortland
"Joan quietly sat down with her legs tucked underneath her, spread her charts on the rocks in front of her, and clicked off her headlamp….For the next twenty minutes Joan sat almost motionless, occasionally turning on her headlamp and leaning forward to make a brief note on her chart while Steve trained his microphone on the various birds that were vocalizing around us." Read more
— Tom Pasquarello, professor of political science at the State University of New York College at Cortland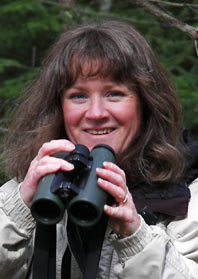 Joan's passion for wild birds and the environment have driven her to volunteer for many citizen science projects, including the Vermont Center for Ecostudies Mountain Birdwatch Project, North American Breeding Bird Survey, New York State Breeding Bird Atlas Project (2000-2005), Christmas Bird Counts, and the Great Backyard Bird Count, among others.
In 2010, Joan worked as an Avian Consultant for Ecology and Environment, Inc. conducting surveys in the grasslands near the St. Lawrence River.
In the Media
Joan speaks frequently on North Country Public Radio's birding programs. The Mountain Lake PBS Adirondack Outdoors program focused on Joan's bird guide services in May 2005. A feature article about Joan was published in the May-June 2010 issue of the Adirondack Explorer.  Adirondack Life magazine featured Joan in "Expert Testimony: Adirondack Guides Tell All" published in their 2011 Annual Guide to the Great Outdoors.  Adirondack Life magazine once again featured Joan in "Bird Land" published in their 2015 Annual Guide to the Great Outdoors (http://www.adirondacklifemag.com/blogs/2015/05/14/bird-land/ ). After spending a day with Joan in June 2016, Herb Terns, outdoor writer for the Albany Times Union, published, "Birds' sweet songs brighten Whiteface Mountain" (http://www.timesunion.com/tuplus-sports/article/Outdoors-Birds-sweet-songs-brighten-Whiteface-8401306.php )
Leadership
Joan is President of the New York State Ornithological Association (NYSOA) and a long-time board member. She is the Editor of New York Birders, NYSOA's newsletter.  Joan is also Vice-President of Northern New York Audubon Society and a past President (when it was formally High Peaks Audubon Society).  She is active in Conservation work for both organizations.  Joan is also a past board member of the Audubon Council of New York State.

Awards
The Adirondack Regional Tourism Council's 2005 Private Sector Tourism Partnership Award "to Joan Collins, Passionate Birder, for Contributions of Time and Expertise that Helped Make the First Adirondack Birding Festival a Success"
Audubon Council of New York State: first annual Norman Stotz Award For Outstanding Chapter Leadership, 2004.
National Audubon: Second place in the 2003 National Newsletter Contest with High Peaks Audubon Newsletter.
Publications
For the past 20 years, Joan has been serving as a Newsletter Editor for several organizations. In addition, she has written many articles and collaborated on other publications:
"High Elevation Birding on Whiteface Mountain", Joan Collins, Flame Magazine, Spring 2016
"Accessible Birding Locations in the Adirondack Park", Joan Collins, Adirondack Life, May 2015 (online blog at http://www.adirondacklifemag.com/blogs/2015/05/14/accessible-birding-locations-adirondack-park/ )
"The Double-crested Cormorant: Plight of a Featured Pariah", Book Review, Joan Collins, New York Birders, April 2015
"The Sixth Extinction: An Unnatural History" Book Review, Joan Collins New York Birders, April 2014
"Notes on a Gray Jay nest in Raquette Lake", Kirsten Askildsen, John Askildsen, Joan Collins, and Larry Master, The Kingbird, Vol. 63 No. 2, June 2013
"Bicknell's Thrush: An Endangered Species", Joan Collins, New York Birders, April 2013
Comments on the "New York State Environmental Conservation Department's Draft Spruce Grouse Recovery Plan", Joan Collins, New York Birders, April 2012
"The Crossley ID Guide (Eastern Birds)" Book Review, Joan Collins, New York Birders, April 2011
"390 Parts Per Million & Rising", Joan Collins, New York Birders, January 2011.
"Projected Effects of Climate Change on High Elevation Forests", Joan Collins, New York Birders, January 2010.
Species Account Author and Peer Reviewer, The Second Atlas of Breeding Birds in New York State edited by Kevin J. McGowan and Kimberley Corwin, 2008, published by Cornell University.
"Grassland Management and Protection", Joan Collins, New York Birders, July 2009.
"In the Heart of Wilderness", Joan Collins, New York Birders, April 2005.
"Winter in a Hemlock", Joan Collins, The Conservationist, February 2004.
"Snow Burrowing by Common Redpolls", Joan Collins & John M.C. Peterson, The Kingbird, Vol. 53 No. 1, March 2003.
"An Unintentional Common Raven 'Experiment'", Joan Collins, The Kingbird, Vol. 52 No. 3, September 2002.
"Moonlit Reflections at Marcy Dam", Joan Collins, Adirondack Peeks, Vol. XXXVIII No. 1, Spring/Summer 2001.
Personal
Joan started out as a computer systems engineer after double-majoring in computer science and psychology in college. She worked in the computer field for a decade in Albany, NY; first for Data General Corp., and then for Apple Computer Inc. With their two young sons, Joan and her husband moved to the Adirondack Mountains in the mid-1990s. Life in the wilderness led to a serious passion for Ornithology.
Joan has been a Hospice Volunteer for the past 18 years. Both of her sons are serious pianists and finished their high school educations at an arts boarding school – it's an ear-driven family! Along with raising her two sons fulltime, Joan raised Max and Rondeau (named after Noah John Rondeau – the hermit of Cold River), Golden Retrievers, who were her constant companions for 11 years. Joan enjoys writing poetry from her experiences in the wilderness.

One Response to "About Us"