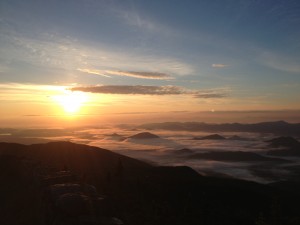 Adirondack Avian Expeditions & Workshops, in partnership with the Olympic Regional Development Authority (ORDA), is excited to announce that it is now offering dawn tours up Whiteface Veteran's Memorial Highway for Bicknell's Thrush! This elusive species is known for its most active singing from pre-dawn to dawn.
Now you can be in the heart of Bicknell's Thrush habitat as the species begins to sing! Spectacular views and gorgeous sunrises are added benefits of being on the peak of Whiteface Mountain at dawn! This high elevation boreal habitat also provides nesting territory for Yellow-bellied Flycatcher, Swainson's Thrush, Ruby-crowned Kinglet, Blackpoll Warbler and many other species.
Enjoy the breathtaking solitude and wilderness sounds of being on the summit of Whiteface Mountain hours before the toll road opens to the general public. To enjoy even more of the Adirondacks' wonderful scenery and birdlife, choose our combination guided trip, which begins at dawn on Whiteface Mountain's summit and follows with visits to lovely lowland boreal bogs and forests in the region.
Bicknell's Thrush – A Species in Peril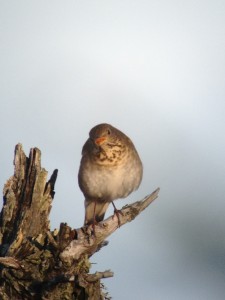 It is likely that Bicknell's Thrush, the only endemic bird species in the northeastern United States, will be listed under the Endangered Species Act by the end of 2017.  For more information about the plight of this beautiful species, read "
Bicknell's Thrush: An Endangered Species
," published in the spring 2013 issue of
New York Birders
, the newsletter of the New York State Ornithological Association and authored by Joan Collins.
Nearly a century ago, New York Governor Franklin D. Roosevelt wanted to make the spectacular experience of being on the summit of one of the Adirondacks' loveliest High Peaks accessible to everyone. Our dawn Bicknell's Thrush tours take this one step further: Being able to DRIVE into Bicknell's Thrush habitat at dawn will make hearing and viewing this elusive species a reality for so many birders that might otherwise never see this bird.
Adirondack Avian Expeditions' expert guide, Joan Collins, attests that after a decade of conducting Mountain Birdwatch surveys at 4:30 a.m. and either climbing through the night, or hauling a camping pack up the mountains, it is extremely difficult to be in Bicknell's Thrush habitat pre-dawn!
The Whiteface Veteran's Memorial Highway
(from the website of the Olympic Regional Development Authority)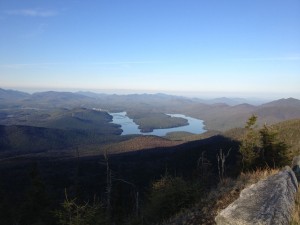 "Pre-dating the ski area by about 20 years, the road to the summit was dedicated by Gov. Franklin D. Roosevelt, in 1929, and opened, in 1936, by the same Roosevelt, though this time with a different title: President. Natural wildflowers grow roadside, a living museum of forest ecology. Anorthosite bedrock boulders, over a billion years old, stand by. Along the way up are nine designated spots where you are encouraged to stop to enjoy the view and discover more about the mountain surroundings from the posted information signs….
"Taking the Whiteface Veteran's Memorial Highway to the top of 4,867-foot high Whiteface Mountain, New York's fifth-highest peak isn't your typical automotive experience. How many other roads do you know that lead you directly to the best seat in the house—the house being the Adirondack Park and the show being gorgeous views spanning hundreds of square miles of wild land reaching out to Vermont and Canada?  Nowhere else is the beauty and vastness of the Adirondack Park so apparent and so easily accessible. The paved road rises over 2,300 feet in five miles from the Toll House. At the summit, a few things you don't often find atop a peak: a castle built from native stone, a restaurant and gift shop, an elevator carved deep inside the mountain top itself and a truly spectacular 360-degree, panoramic view of unparalleled beauty. A visit to the Adirondacks is not complete without a drive to the top."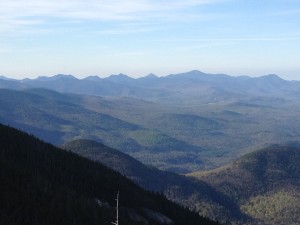 The Olympic Regional Development Authority
A big thank you goes out to Aaron Kellett, General Manager of Whiteface Mountain, for supporting this wonderful new opportunity for birders.  The Olympic Regional Development Authority has worked closely with conservation groups over the years to ensure that any expansion on Whiteface Mountain is done with little impact on Bicknell's Thrush breeding habitat.